THE THROWBACK MACHINE: Never Leave Your Tape Blank Blank | Return machine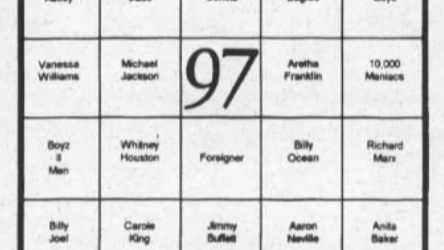 Some people still have to drive up to the Castle Clint intersection with their windows down, playing their music to everyone like their own personal rolling radio station.
Well two can play this game. And I am willing to do the same here, but with no headphones required, unless you want to track at home, as I search my trusty old shoebox again. another of my childhood mix tapes presented for your approval.
This one, a 60 minute tape of the good folks at "Laser," has a few historical marks to note, including the words "Hits # 3" in my handwriting and "Clint on Radio" in my mother's.
Because this was a tape originally used by my mom to record my sophomore year's Easter presentation, as it originally aired that year on the ever-enigmatic WLBH-AM as part of their "Know Your Schools" program. I only know the title because that's what the announcer said once the last notes of "The Easter Bunny's Coming" faded into the mono hiss. He even missed the words "Easter Presentation".
THE THROWBACK MACHINE: Not "easy" to watch
I thought about listening to all four songs just to hear if I could choose my sound tenor from among my out of tune classmates, but after the introduction of Melissa Ferguson, Music Director at Humboldt Elementary School, I got about three notes before you get really sad for some reason and press the fast forward button instead.
Imagine being the music teacher at Humboldt Elementary School; there are a thousand short stories just waiting to be written out there. But like I said, I remember. Ms. Ferguson made a special recording for me of the "Radio Station KIDS" theme that I liked at the time, and I think she even warned me that learning the saxophone was going to be quite expensive. . for my parents.
At one point though, probably in an effort to keep my mom from embarrassing me by playing it every Easter, I had to take this tape for myself as part of my ongoing efforts to expand my musical palate to- beyond my childhood box 45 by recording randomly turned off the radio.
THE RETURN MACHINE: Insertion of parts, summer release
The identification of stations between songs confirms that, again, they were primarily recorded on WSOY outside of Decatur, with a switch to WLRW outside of Champaign on the B-side, which would continue to be my pop music station. choice for the rest of my tweens. , until the release of "Losing My Religion" in 1991.
Most of the songs are from 1987, although there were a few late 1980s stragglers here and there, like the first song after The Bunny, "Down Under" by Men at Work, a song I loved so much. that I think I camped by my radio for days waiting for them to play it. Stupidly, I think I hit the pause button for some reason, which is why for years I thought the third verse was not "Lying in a den in Bombay" but "Lying in … bay! " like that makes sense.
Then, Fleetwood Mac's "Little Lies" from the late period, perhaps my first exposure to the band, although "Gypsy" was the best song at the time; and Mellencamp's "Authority Song", a tune that I thought probably represented my rural surroundings well, but now find it a bit boring. Honestly, what good rock song ends with the authorities winning?
After that song, a few random seconds of "Don't Fear the Reaper", unfortunately cut in favor of a forgotten 80s single by a classic artist, "Unchain My Heart" by Joe Cocker, some publicity for R + B beer that I thought was "authentic adult" music but now sounds really wrong like "Back in the High Life" for the same reasons.
Talk about another forgotten single, "Pop Goes the World" by Men Without Hats, an insanely silly song you last heard rightly picked up by hipsters in a Target commercial.
This is where the cassette almost got chewed in my vintage tape recorder and I had to put everything back in the cassette with a pencil, as you did before!
Diamond Dave Lee Roth's "Just Like Paradise" is a song that I must have liked enough to actually flip the tape over to the B side to grab the rest; followed by "Pump Up the Volume" by MARRS, one of those early techno and sample-rich instrumentals designed to have your parents banging your walls on your walls asking you to turn it down; and finally "Electric Blue" by Australian band Icehouse, which is not as good as "Midnight Blue" by Lou Gramm but much better than "Counting Blue Cars" by Dishwalla and good enough for The Killers to come up with a surprisingly faithful cover. Last year.
And then the strangest thing happened; After WLRW DJ Chad Stevens urged listeners to listen to the "Less Than Zero" soundtrack, the music stopped. That's right, for some reason I never finished the tape. Does this sound like something I would do? Friends, it bothered me all week. Until I decided the best thing to do was finish what I had started.
And of course, there are about five FM stations in the area that still play the exact same music now that it was new in 1987, but that's no fun; So although I wasn't able to get a clear signal without physically holding the antenna above my head, I tuned my vintage component tuner for WLRW and patiently waited to hear the songs. today that caught my ear, which so far includes something called "Dancing With a Stranger" by God knows who and "Willow" by Taylor Swift, two songs both new to me, but on which I 'll have a lot to say one day. Because some memories, old and new, are better preserved on tape.
My Town: Coles County Clint Walker's Memories From The Archives
Cosmic blue comics
Matoon Arcade
Icenogle's
Cooks Mills
Mr. Music
Sound source Guitar throw
Vette's
FutureGen
"The Throwback Machine" is a weekly article that reviews items of interest found in the JG-TC's online archives. For questions, comments, suggestions, or his "Song of the Day" recommendation, contact him at [email protected]