Strong market signals are needed for non-mule wool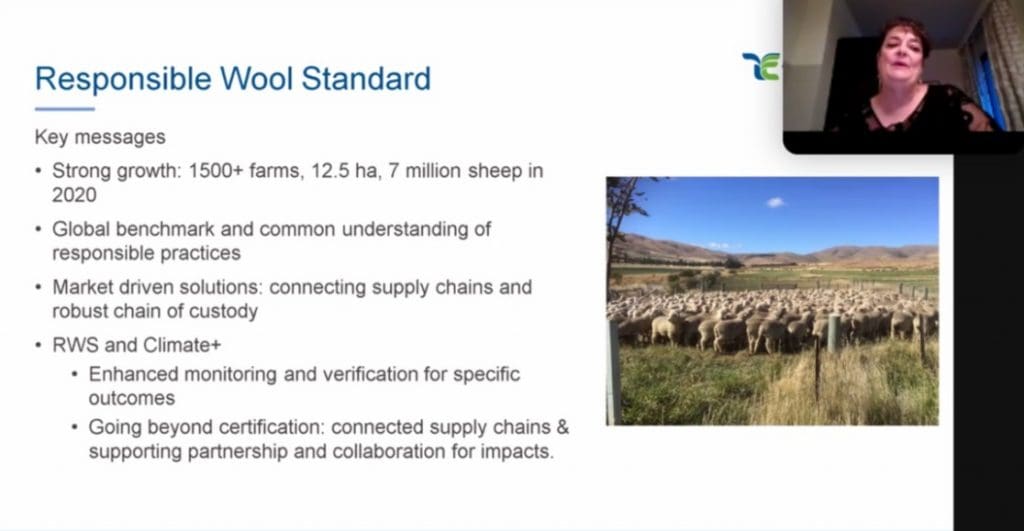 WOOL Connect conference attendees learned that strong market signals and producer training are needed to increase adoption of the Responsible Wool Standard in Australia.
The Responsible Wool Standard is one of the most important and well-known accreditation systems for the supply of non-mule wool and is increasingly accepted by Australian producers, brokers and exporters.
Textile Exchange co-founder and CEO La Rhea Pepper told the virtual conference that the exchange has 642 members and more than 2,400 participants across 11 "round tables".
She said the exchange is now using the term "connected action" to have aligned strategies to move from "islands of good to this force for change".
Over 200 brands that report fiber and material use to the exchange's benchmarking program and over 30,000 "sites" in 82 countries have been certified to TE fiber standards to identify and support best practices .
Schneider Group Director Elena Schneider welcomed attendees to the conference and said the company will celebrate its centenary next year.
She said the clothes we wear "should not only be chic and comfortable, but also responsible".
"And if there is a slow food movement against fast food, there should be a slow fashion (movement) against fast fashion," she said.
"The way we consume makes the difference.
"The goal should be to increase the consumption of wool and other natural fibers compared to synthetics, which cause, we know, the terrible problem of microplastics," she said.
"We want to ensure a better future for all of us. "
Market access, training and information necessary for the growth of RWS
When asked what is the main limiting factor for the adoption of RWS in Australia, Ms Pepper said that there are two main obstacles to the growth of RWS in any region.
"One is you can't do some of these more responsible practices on a maybe you have to have market access, and these are strong signals from the market.
"So I think the main obstacle here is getting commitments from brands and retailers to make sure they are supporting farmers in their area for the type of wool they need," she said. .
"So I think part of that is the barrier to market access, the other is training and access to information and 'here is this opportunity for farmers and ranchers.
"So it's that kind of double-edged sword, you have to have both: access to the market to open up that direction of travel, as well as training and farmers who understand the opportunity before them. "
Ms Pepper was also asked why the Textile Exchange is promoting recycled polyester fiber, as this would lead to micro-poly fibers ending up in wastewater.
"Yes this is a huge challenge and when we are working across the entire fiber portfolio the choice is virgin polyester or moving the industry from the status quo to some preferred solutions.
"Microfibers are a big issue and we work with other groups that tell this story and it's a challenge, and as a Textile Exchange we do our best not to compare one fiber to another, but to promote the best in its class, "she said.
"In saying this, I'm a farmer and I have a preference for terrestrial fibers, so I think the climate lens and risk mitigation will add another benefit to the reasons why you should adopt natural terrestrial fibers.
"We all wear different fibers and form follows function, so it's about function and hopefully we can increase the use of natural fibers over time."
QUATRE PATTES will present the "letter of intent" of the brands
The global animal welfare organization FOUR PAWS will once again call for an end to mulesing in the wool industry at the Wool Connect conference this evening.
FOUR PAWS wool activist Rebecca Picallo Gil will present an open letter signed by more than 30 global fashion brands, including Adidas, Patagonia and H&M.
FOUR PAWS said its goal is a concrete action plan to end mulesing by 2030.
The animal welfare organization said Adidas, H&M Group, Bestseller, VF Corporation, Mammut, Patagonia and Otto Group have a branded letter of intent, stating they don't want mulesed wool and calling it Australian wool industry to enable the transition away from mulesing. and towards painless alternatives.
"FOUR PAWS " brand letter of intent 'is another strong signal to the Australian wool industry and global wool supply chains that mulesing must become a thing of the past," said Ms Picallo. Gil.
FOUR PAWS said Australian Wool Innovation had mentioned the end of mulesing by 2030 in its latest Wool Strategy 2030 document, setting their own goal for wool producers to have "the confidence and tools to manage flystrikes without mulesing "by 2030.
"This was an important milestone showing that the wool industry in Australia recognizes that time is running out for mulesing.
"What needs to be developed next is a clear action plan for wool producers and textile brands to phase out mulesing," she said.
"This is why we want to use the momentum of this 'brand letter of intent' to confirm to AWI that brands are ready and need their counterparts in Australia to develop an action plan to achieve the goal. common to end mulesing by 2030. "
Click here to view the QUATRE PATTES letter of intent.
The Wool Connect conference continues tonight and tomorrow night.
Do you have something to say about this?
Have you joined RWS or another wool integrity program and why? Or why not you? And are you comfortable working in a wool market influenced by brand and retail customers, and the philosophies of animal welfare organizations? Please share your views with other Sheep Central readers in the comments section below.