SPRING HOUSE AND GARDEN: Older house becomes new home with help from Lynden residents Kurt and Gwen Langstraat | News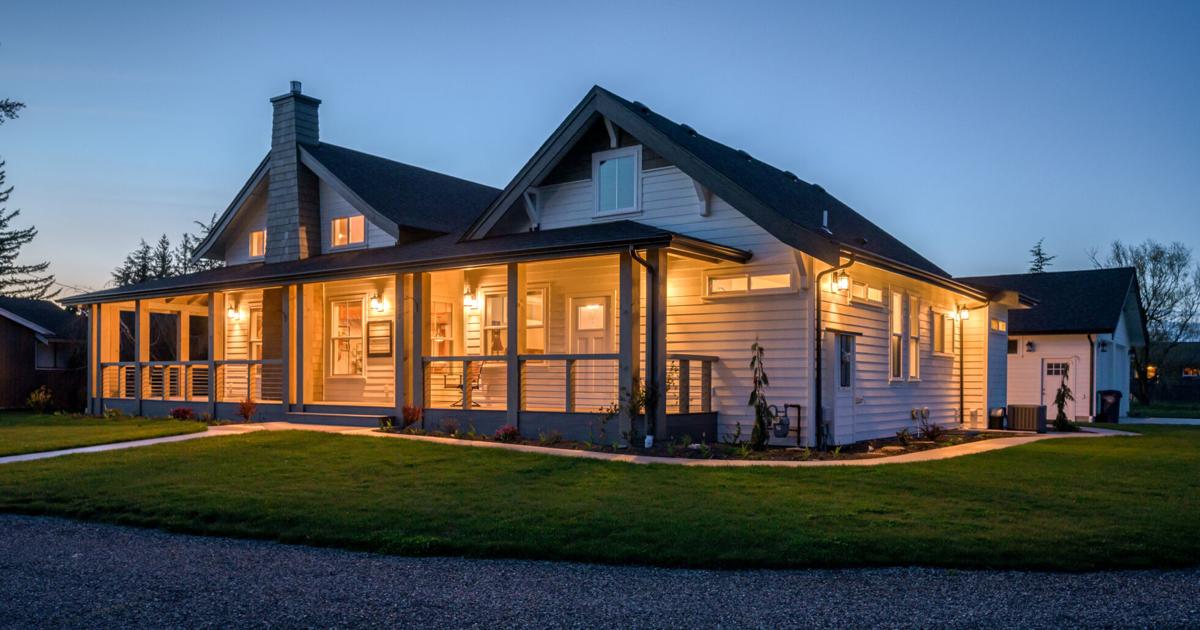 The little white house was once part of a farm and just 952 square feet on an acre not far from Lynden Christian High School.
The neighboring property was slowly transformed from farmland to various developments in the 1980s and 1990s. John J. and Edith Grace Fischer moved to Lynden in 1965.
John died in 1989 and Edith Grace died of cancer at home in 2013.
It moved from the family trust to Kurt and Gwen Langstraat the following year.
The Langstraats came to see architect Craig Telgenhoff, president, designer and project manager at CLT Design/Build Inc. to rehabilitate an old farmhouse.
"They had no expectations," Telgenhoff said. "It wasn't necessarily to become their forever home. But maybe that's what happened.
"Hold on to the old but with a willingness to look to the future and enjoy the new," Telgenhoff said. "At the end of the day, by not demolishing the building, it has a soul."
"That's not what you get in a new build. It's not just a space to occupy. You can feel the history and appreciate the future… You can also apply in a spiritual sense. To be broken, to be reborn and to make new. The past makes us realize who we were…and the hope we find.
Telgenhoff, who trained at the University of Washington in economics, architecture, and construction management, got his start in construction practices as a teenager with cabinetmaking and furniture making to take on construction tasks, with a role with Seattle's Safeco Field and being part of the construction of a special home for Starbucks founder Howard Schultz using master craftsmen and materials.
Its Lynden office was founded 21 years ago to deliver new construction, commercial and general residential projects.
Telgenhoff thinks about real budgets – thinking about processes so its customers don't have to. The design process involves and can encompass many details including the selection of paints and furnishings if required.
The rehabilitation of an old house is no stranger to Telgenhoff and it is not the first time. It looks at design and how best to serve investment dollars with an add-on versus total rehabilitation which is less economical in the case of Langstraats.
The addition has a great room. The old living room became the master bedroom, the old kitchen being a link between old and new, and a small guest bathroom in a hall.
Kurt Langstraat grew up in Lynden, one of six children in an older home at 8455 Benson Road. He played basketball for the late Jake Maberry at Lynden High School, then became a musician and pastor as an adult.
Gwen (Visser) Langstraat also grew up in Lynden. She played basketball for Lynden Christian High School, then became a wife and mother — and a nurse.
Kurt and Gwen got married – an intermarriage from neighboring high schools and entered the ministry which took them to other parts of Washington and other countries.
The Langstraats were most recently on Bradley Meadows opposite Lynden High School. They had purchased an old farmhouse built in 1917 in the fall of 2014 with the intention of using it as a rental and the surrounding property for a church garden space that needed to move.
Kurt, senior pastor at North County Christ the King Church in Lynden's Fairway Center, and Gwen, director of nursing at Meadows Greens Seniors' Residence, found they could redesign the property.
First, fewer long-time volunteers were available to work on the garden site to keep it viable. Second, while Kurt's parents were now deceased, Gwen's parents, George and Gladys Visser, were aging and they developed the idea of ​​creating a 770 square foot space for them to live independently but much closer of them to age in place.
Their Accessory Living Unit (ADU) was created as an apartment with a garage and wheelchair accessible ramps already in place to be ready when needed, such as with the rails and the ADU accessible tub.
"It's perfect for them," Kurt said.
Kurt refers to the process as a redemption process to redeem the house and help the family who moved from housing their daughter Lindsey and her husband Evan Pollock for a time to Gwen's parents.
Parents raised them to "be a blessing to your family." Lindsey and her family now have Trilby, 3, and Winona, 1, and live near Wiser Lake.
Several friends listened to their ideas and urged them to consider demolishing the house – and "we got down to the bones".
The Langstraats discovered that beyond the charm and the history was the rot. Even from the base of the original floors, they had to lift it, and demo, demo, demo. Say goodbye to shiplap boards, drywall and cedar.
Kurt kept track on his Facebook page.
Since the Langstraats had sold their old house and there was so much demolition work to do, they needed accommodation longer than expected.
A church family that spends part of the year in Florida has opened its home in Langstraats – one even with the furniture intact – rent-free for the necessary eight months. They only had to pay for utilities.
They got to work – demonstration of the buildings, ground work, concrete foundations, walls going up, roof, demonstration inside the house, flooring installed.
To create something new, some things had to go. What left the site was a barn and several outbuildings. What remained were several of the outbuildings – one to be used as a workout area, another for storage, and one to house a favorite car – and the old house was incorporated into the new 2,000 square foot home. It is distinguished by a large wraparound porch.
From the entrance, the main staircases are remarkable from an architectural point of view.
Caesar, the cat, makes his presence known, moving in and out of where the family was talking.
They move from the new section of the house to a 270-square-foot loft — complete with play space and room to sew — above the kitchen that has a custom stain to match the gunstock-colored wood flooring.
A space under the stairs is used by the grandchildren for their toys.
The house is not pretentious. It invites those who compose it to live.
The main decorative elements along the hallway walls are collages of family life.
Son Levi, in the living room, shows the many windows around the room. "Mom likes the light," he says.
An effective trick has been used in the hallway: an IKEA cupboard for coats and other storage has been painted and blends in with paint and moldings.
Up in the old house, and literally up small steep stairs preserved from the old house, Kurt hangs his head with the ceiling down. There is a special study that Kurt uses with special things from family time in Taiwan at Morrison Academy, an international Christian school that has three campuses in Taiwan established in 1952 to educate students in a typically Christian environment with an upbringing. quality American.
The student body is 80% Taiwanese students and 20% international students.
The Nike company has a lively community in the area. To attend, everyone must have a passport.
The bedroom, one of two upstairs with sloping ceilings, is surprisingly cozy with a quaint, quiet edge.
Opposite is a small, old-fashioned guest bedroom with a mirrored door into a small dressing room with a small chest of drawers.
Back downstairs to master bedroom with ensuite master bath, utility room and renovated stairs to basement now used for storage.
The cabinets of the old house have also been reorganized and placed near the washer and dryer. To save space, a pocket door protects the entrance to the powder room from the hall.
A window, taken from the original house, has been repurposed as a picture frame in a visible location not far from where it was taken.
Kurt and Gwen point it out. The front door of the old house is used in the bedroom. Old and new. New and old. They live side by side.
Taiwan, officially the Republic of China, sits at the "junction of the East and South China Seas in the northwest Pacific Ocean," according to Wikipedia.
There is one main island with a total of 168 islands. Many inhabitants immigrated in the 17th century from Han Chinese under a Dutch colony.
Later, Japan was in control for a time and as China had a civil war, many Chinese fled the mainland to the island in 1949.
This includes General Chiang Kai-shek who brought artifacts and stories.
The Langstraats brought home their own artifacts and stories.