PVA: everything you need to know about 3D printing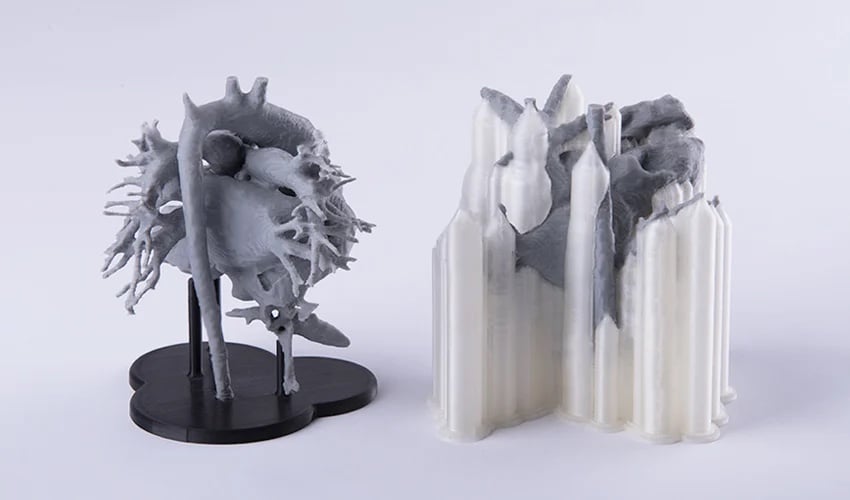 PVA, or polyvinyl alcohol, is a widely used material in the 3D printing industry due to its ability to dissolve in water. In particular, it is used for the creation of print media when using FDM dual extruder machines. This gives users greater design freedom for parts with complex geometries, without affecting print quality. The more details and cantilevered parts the design has, the more supports the part will require to make. This guide will help you better understand the properties of this material, as well as its role in 3D printing to achieve the best results in each manufacturing process.
Characteristics of PVA in 3D printing
Technically, PVA is part of the family of synthetic polymers, with the particularity of being biodegradable. It is created by polymerizing vinyl acetate, which is then hydrolyzed to obtain the material in the form of a filament for 3D printing. It has a transparent to off-white appearance and is highly resistant to oil and grease. Besides having very good adhesive properties similar to other thermoplastics like PLA, CPE or Nylon, this material has high tensile strength and flexibility. In order to achieve good substrate results, PVA requires preheating the build bed to 45-60ºC and bringing the extruder to a temperature of 180-200ºC. It is also odorless, non-toxic and, as mentioned, biodegradable, making it safe for humans, animals and the environment.
Among its main advantages is, as mentioned, its ability to dissolve. Related to this, the most remarkable thing is that it only needs water to remove the support material, that is, it does not require solvents with more complex components. In addition, it does not require any additional hardware. However, some of the disadvantages of PVA should also be mentioned, although they are generally applicable to other soluble materials. One of them is the high sensitivity to humidity, which can directly affect the material. So that its properties are not altered, it will have to be kept in areas where the air is strongly controlled. PVA is also more likely to generate clogging if the nozzle is left hot when not being extruded. To this we can add that many users consider it an expensive filament for what it is, since it is ultimately not used in the final parts being printed, but rather dissolves during post-processing .
Use and applications
As a soluble material, PVA is ideal as a complement in the manufacture of parts with complex geometries, as well as internal cavities, conceptual models and molds. 3D printed supports provide better surface quality and also allow the part to be oriented to optimize its mechanical properties. An important point to consider when working with this material is the configuration of the extruders. Cooling the PVA hotend when idle will prevent the seepage and clogging mentioned above. Additionally, it is recommended to set the top support clearance distance to 0 layers for a more optimal surface finish. Since supports will dissolve, it doesn't matter if they adhere to the final part during the manufacturing process.
By allowing the 3D printing of all types of parts, regardless of the complexity of the design, PVA is a material widely used in the art world to create decorative models. However, this is not the only sector that benefits from this filament. Even the most advanced industries that work with FDM technology to create tooling or prototypes are also increasingly incorporating soluble materials to create supports. Among the companies offering PVA filaments we can find Ultimaker, eSun, MatterHackers or Polymaker, among many others. If you want to learn more about other 3D printing filaments, you can check out our guide HERE.
What do you think of the characteristics of PVA in 3D printing? Let us know in a comment below or on our LinkedIn, Facebookand Twitter pages! Don't forget to sign up for our free weekly newsletter here, the latest 3D printing news straight to your inbox! You can also find all our videos on our Youtube channel.
*Cover photo credits: Zortrax