NHEC & NH Broadband join forces with Conexon for a major high-speed fiber optic project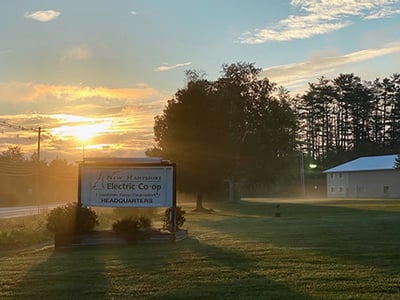 [ad_1]
Businesses Aim To Bring High Speed ​​Internet To Rural NH Communities
The New Hampshire Electric Cooperative (NHEC) has entered into a partnership agreement with Conexon, a nationwide provider of rural fiber-to-the-home (FTTH) broadband solutions that works exclusively with electric cooperatives, to provide high-speed Internet access to the members of NHEC in 118 communities which lack it today.
The partnership will enable NHEC's new subsidiary, NH Broadband, to take the next steps in its plan to ensure that all NHEC members have access to reliable and affordable high-speed internet access.
A leader in the design and construction management of rural fiber optic networks, Conexon works exclusively with rural power cooperatives to design and build state-of-the-art fiber optic networks. This year, Conexon will complete construction of more than 40,000 miles of fiber optic networks for co-ops across the country.
Conexon will work with NH Broadband to bring fiber optic service to a large rural area of ​​New Hampshire that has been largely overlooked by existing Internet service providers. NH Broadband's plan is to build networks using the latest XGS-PON technology. These networks will be capable of symmetrical upload and download speeds of up to 1 Gigabit per second – technology that can meet the needs of NHEC members today and in the future.
Through this relationship with Conexon, NH Broadband will initiate critical planning and pre-construction work, positioning itself to start as soon as grant opportunities become available. Once funding is secured, NH Broadband's goal is to build fiber optic networks that ensure the 85,000 NHEC members in 118 communities in nine counties have access to high-speed internet. As part of this plan, NH Broadband will make significant progress in bridging the rural digital divide in New Hampshire.
The critical effort to expand rural broadband access has become urgent in the wake of the COVID-19 pandemic in 2020, as the rapid shift to work and distance learning has left many rural residents with slow or no internet connectivity that struggles to keep up. As it did in the 1930s, when it supplied electricity to rural New Hampshire, the NHEC is committed to making this equally essential service available to all of its members.
The project builds on NHEC's current FTTH project encompassing two of the cooperative's communities, Acworth and Sandwich, which will provide fiber-optic access to nearly 1,800 underserved homes and businesses. These networks are expected to come online in early 2022. A year ago, NH Broadband connected its first customers in Lempster, Colebrook, Stewartstown and Clarksville, when it completed the fiber optic networks using a grant from the program. Connecting NH Emergency Broadband Expansion. These networks currently provide more than 1,000 previously unserved NHEC members with access to world-class high-speed Internet service.
"We are delighted to be working closely with Conexon on this venture," said Leo Dwyer, executive chairman of NH Broadband. "With their expertise and the pending availability of federal and state grants, a large part of rural New Hampshire will finally be connected to invaluable economic, educational and lifestyle opportunities that were heretofore unattainable."
"We are very pleased to be working with the management team and the board of directors of New Hampshire Electric to serve their members with fiber broadband," said Randy Klindt, Founding Partner of Conexon. "New Hampshire is in desperate need of world-class broadband and this project will go a long way in bridging the digital divide within the state. It will be transformative.
[ad_2]