Macy's holiday tree will arrive in Fountain Square on Saturday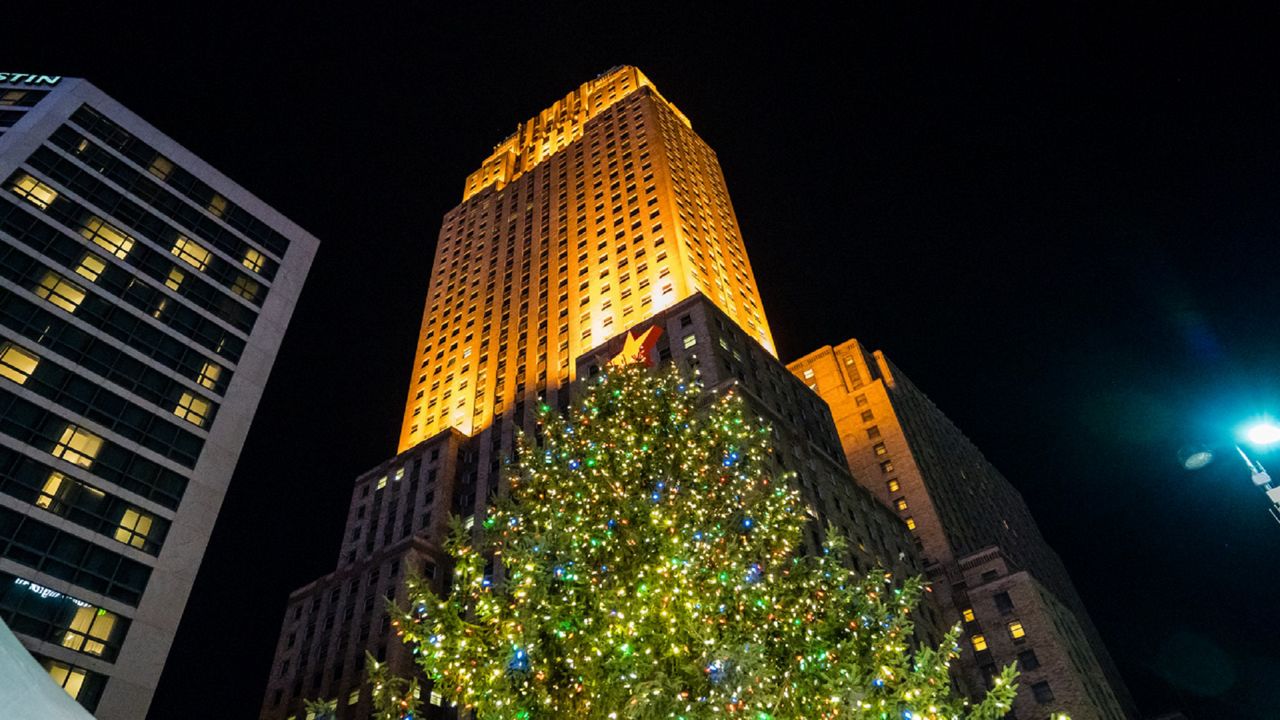 [ad_1]
CINCINNATI – Thanksgiving may only be a few weeks away, but the transformation of downtown Cincinnati into a winter wonderland is set to begin this weekend.
---
What would you like to know
3CDC to set up Macy's Holiday Tree in Fountain Square on Saturday
The ice rink was installed on Monday
Various events take place throughout the weekend at Fountain Square; admission to the ice rink may be required for certain activities
Macy's Light Up the Square will take place on Friday, November 26
---
The annual Macy's Holiday Tree will arrive in the heart of downtown early Saturday morning. The 56-foot Norway spruce was selected specifically for Fountain Square by Cincinnati Center City Development Corp. (3CDC), which exploits and programs space.
The tree is the centerpiece of 2021 Macy's Light Up the Square, which returns this year as an in-person event after going all-digital in 2020. It will take place on Friday, November 26 from 5 to 11 pm.
3CDC stated that it had been working with Zuk's Tree Moving for a few months. This comes from a nursery in Westfield Center, Ohio.
"This tree is the centerpiece of many Cincinnati vacation traditions," said Andi Schultes with 3CDC. "Our goal each year is to find a beautiful tree that will be part of a lasting memory for visitors to Fountain Square."
Zuk's Tree Moving begins its journey from northern Ohio to Cincinnati shortly after midnight Friday. They expect the tree to arrive downtown at 6 a.m. on Saturday.
Maxim Crane begins installing the tree at 7 a.m. in the southwest corner of the square. They expect to finish around noon, when the decoration of the tree will begin. They will continue to add strands of decorative lights and a 5 foot tall Macy's red star over the next few days.
3CDC reminds viewers that the tree you see during and immediately after installation will not be the final product.
A Photo of last year's Christmas tree installation has gone viral, some declaring it "the perfect tree to represent 2020". The tree had not yet fallen completely, so parts of the tree looked barren and as if it were missing branches.
"Beauty takes time. We assure you that the holiday tree will look glamorous once all the proper adjustments are completed by the end of the weekend," said Caroline Curran of 3CDC.
The installation of the tree is part of the general wintering of Fountain Square. On Monday, 3CDC opened its seasonal rink, which will be open for skating at 8 a.m. on Saturday, while the tree is being set up.
The rink is open seven days a week for ice skating and the use of special bumper cars. There is a full-service concession tent with hot and cold snacks, and alcoholic and non-alcoholic beverages. It also has a warming area.
3CDC is encouraging families to come to the square on Saturday to participate in what they call a "pruning party" while the tree is being set up. From 10 a.m. to noon, local artist Abby Palen will lead a holiday ornament-making event for patrons to enjoy.
Admission to the rink will be required to participate in the event. Admission is $ 15. Those interested in participating should book the 10 a.m. skate and bumper car session.
The opening weekend festivities continue on Sunday with an evening of pajama skating during the skating and bumper car sessions at 10 a.m. and noon. Guests in cozy pajamas will receive complimentary hot chocolate.
3CDC reports that reservations are still available for the opening weekend. They can be done on the Fountain Square website.

[ad_2]