"Crime Scene Kitchen": Mothers and Daughters of Bakers are Far from Disappointed | New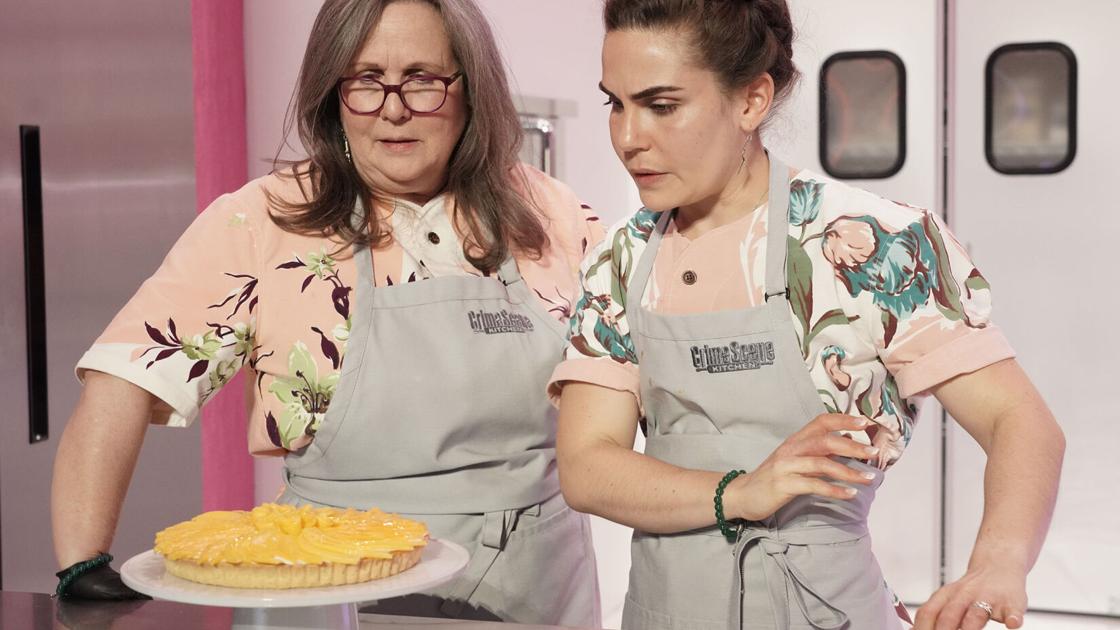 [ad_1]

WILLIAMSTOWN – How close are Leslie Milton and her daughter Emma Rosenthal to each other?
Well, put it this way: with a cool head, no fuss and a little fuss, they were able to sift through rare clues from a test kitchen, rummaging through trash cans, the dirty sink. , the dishwasher, the refrigerator and the cupboards. Taking due note of the culinary evidence they had – chocolate birch bark, laser thermometer, oil, buttermilk, meringue piping bags and pictures of mushrooms – the mother and daughter agreed that a black forest cake had been baked there, a cake that had now disappeared.
Then tasked with recreating it, they quickly presented the famous judges with a gorgeous – and apparently delicious – concoction, decorative meringue mushrooms and all.
"It was truly an incredible performance," said Michelin-starred chef Curtis Stone, with cameras rolling. Her colleague judge Yolanda Gampp, "the Beyoncé of cakes", nodded in agreement.
On their debut on the national television show "Crime Scene Kitchen" on June 2, Milton, who lives in Williamstown, and Rosenthal, who lives in Chicago, moved on to the next round. Since then, they've moved forward on and on, and now this Wednesday at 9 p.m., they'll be one of the five remaining teams of the original 12.
This is the show's first season, billed as a guessing game, culinary competition, and comedy on an equal footing. Hosted by comedian Joel McHale, "Crime Scene Kitchen" will run until July 21 on FOX.
"How many people can do a prime time reality show?" Milton said in a recent interview with The Eagle. "It was great."
Has been great, she said. Past. The show was pre-recorded this spring in Los Angeles. Contractually, Milton cannot say whether she and her daughter won the contest. The winners receive $ 100,000.
How did they register for the competition?
Emma, ​​an actress, came across a casting notice calling for bakers and pastry chefs who love to solve puzzles.
"It looks like us," she told her mother.
Milton, 63, had only started serious cooking about 14 years ago, when Emma attended Northwestern University. Every week, she sent her daughter care packages filled with homemade cookies.
"It made her very popular," Milton said.
Milton herself had received similar care packages from her grandmother from the time Milton attended a summer camp as a child. Homemade candy continued to arrive in the mail throughout his college years, first at the Illinois Institute of Technology and then at the Rhode Island School of Design.
Milton calls this period "Life BP" (before baking), that is, before she fully engages in the world of butter, sugar and chocolate.
Originally from New Jersey, she made a career in graphic design, advertising and public relations before becoming a stay-at-home mom for Emma, ​​her only child. After Emma left for school, Milton returned to working life, working as a fundraiser for a museum in New York City. But it didn't last long.
Six years ago, at the age of 57, she quit her job to officially study baking.
"Bakery and fine pastry really are at the intersection of art and chemistry," she said. "I just felt drawn to it."
She graduated with honors in 2015 from the Art of Pastry program at the French Pastry School in Chicago. She then followed apprenticeships in Boston, Paris and Vermont.
After two years living as what she calls a "pastry nomad," Milton moved to Williamstown five years ago, having had a second home in the Berkshires dating back to the 1980s. She now runs a bakery business. , GoodNight Kitchen, from its loft in Cable Mills.
As for her teammate, her daughter, Rosenthal, she is a self-taught baker, "very accomplished in her own right," said her mother.
The casting call for "Crime Scene Kitchen" went out in February. Rosenthal, 33, applied. In late February or early March, the casting company invited the two to participate in a Zoom call. This was followed by more Zoom calls. At the end of March, they were informed that the producers of the show had chosen them. On April 2, they leave for Los Angeles.
"We're the adventurous type," Milton said, "and it sounded like the best adventure ever."
Producers deliberately told them very little about the show other than that it would be an elimination competition over a period of two to five weeks, depending on the progress of the contestants.
The upcoming episode on Wednesday marks the semi-finals.
"It's a fun episode," Milton said. "The guest judge is Ken Jeong. He's hysterical. … I can't tell you more than that.
What she can say is that she and her daughter are pretty good at it – to enter the "crime scene", a kitchen that had just been used to make an elaborate and delicious dessert that since gone, then to figure out what was cooked. Under strict time constraints, teams must duplicate the recipe based on the clues they have gathered.
"We have an incredibly strong relationship to begin with," Milton said of her and her daughter, "but we ended up being really good in the kitchen together. Emma has a really good memory. She was invaluable to herself. remembering the clues, honestly, it was magical to have that experience with her.
What has been the toughest challenge in the competition so far (i.e. last Wednesday's episode)? In one of the episodes, the two made a mango pie as the clues called for a mango cheesecake. Close enough. None of the other teams got it right, either.
Or maybe it was the croquembouche – a tower of cream puffs held together by baked caramel.
"We had to do it in three hours, which is almost impossible," Milton said. "Normally you could do it in three days."
[ad_2]