Chaos at airports: Airlines still selling holiday packages despite canceled flights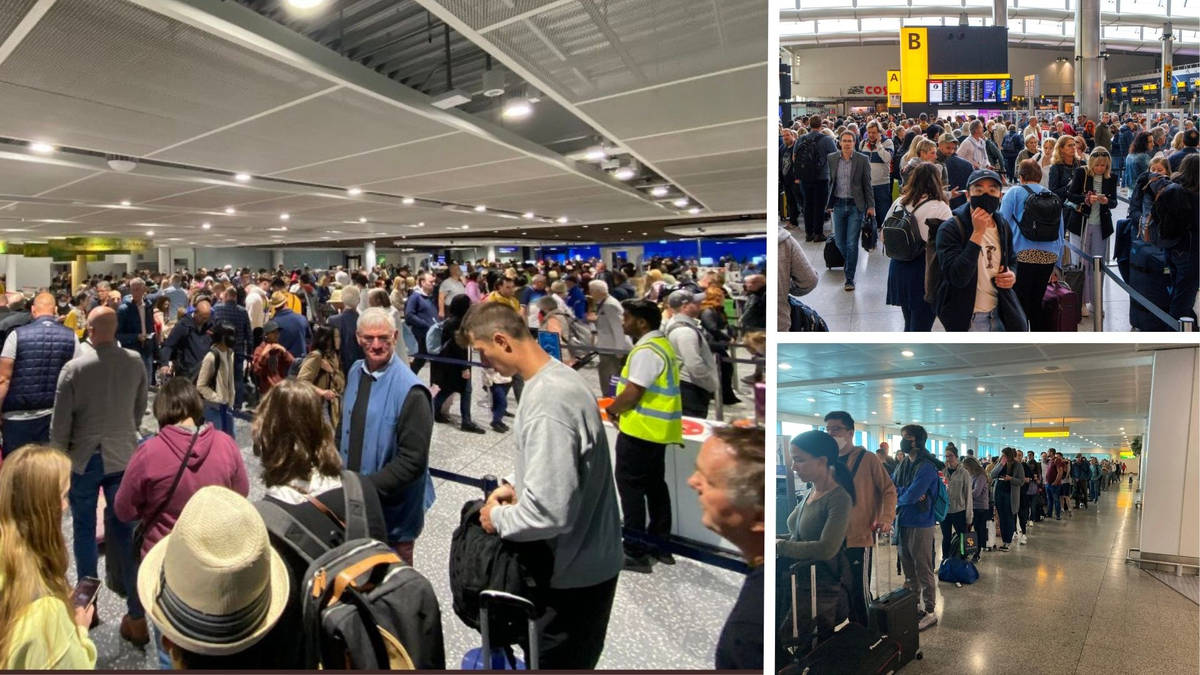 June 1, 2022, 00:54 | Updated: June 1, 2022, 4:21 p.m.
Airlines and vacation companies are still selling discounted vacation packages despite the cancellation of more than 160 flights.
As of 3pm, TUI was still selling a seven-night self-catering Palma de Mallorca holiday for a family of four (two adults, two children) including flights for £429.
The company, which on Wednesday continued to cancel six daily flights from Manchester, totaling a quarter of its schedule from the airport, was also offering an all-inclusive package to Rhodes, Greece, for a family of four for £941.
EasyJet canceled at least 31 flights at Gatwick on Wednesday, including to destinations such as Bologna, Barcelona, ​​Prague, Krakow and Edinburgh.
But as of 3pm the low-cost airline was still offering seven-night Cyprus holiday packages for a family of four for £611, including a discount as part of a 'Jubilee flash sale'.
Last night the low-cost airline also offered holiday packages and offered customers a £100 discount if they book by 11pm.
As of Wednesday, other companies continued to advertise their vacation packages on TV and social media.
Chaotic scenes have erupted at airports across the country this week as travel agencies shirk demands for post-Covid restriction getaways.
British Airways cut 124 short-haul flights at Heathrow on Wednesday.
Read more: Ministers slam airlines for 'totally unacceptable' cuts in mid-term airport hellhole
Read more: Holiday misery for 34,000 Britons as TUI cancels six flights a day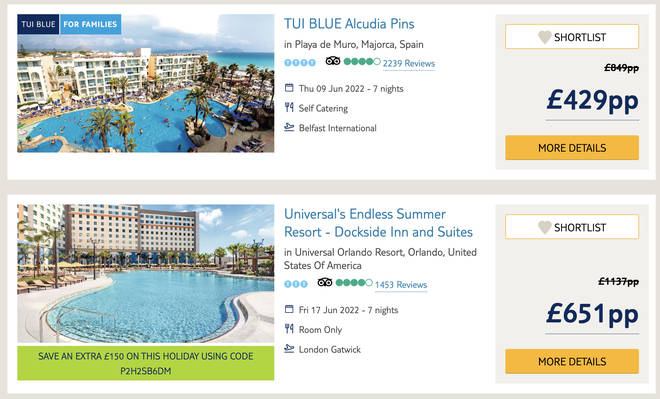 On Tuesday, police had to pick up hundreds of passengers from a plane that was stuck on the tarmac at Manchester Airport after a scheduled TUI flight was cancelled.
The passengers, who were due to be on their way to Tenerife, had already been delayed for over an hour and ground staff reportedly took so long to load their luggage that the flight was cancelled.
Police arrived to help the plane, which was left 'abandoned' on the tarmac, at 10pm after those on board spent around three hours in the hot plane, the Manchester Evening News reported.
Adam Wyczalkowski, 22, who was traveling with friends on the Manchester-Tenerife flight, said: "People are getting so frustrated and angry. It's so hot and there's no air conditioning and we're not only offered a free drink.
"There wasn't a single member of staff in sight so the captain informed us that they were going to call the police in order to let us disembark."
A TUI spokesperson said on Tuesday: "We would like to apologize to customers traveling on flight TOM2106 from Manchester to Tenerife on Monday May 30, which has unfortunately been delayed due to operational issues.
"We have been in contact with the affected customers, offering them overnight accommodation and meals if required, and advising them of their new departure times as soon as possible. This flight is now due to depart tonight."
Swissport, which was loading the bags, apologized for its part in the delay, while Manchester Airport Group said "it is clear" that TUI and Swissport "are experiencing temporary staff shortages".
Aviation bosses have urged ministers to cut red tape to end the travel chaos gripping UK airports.
They are said to be in crisis talks over access to tax records that would help them recruit more staff quickly.
But Deputy Prime Minister Dominic Raab said the government had supported the airline industry with £8billion during the pandemic and said they had been warned of an increase in holidaymakers.
He told LBC's Nick Ferrari over breakfast on Wednesday: "There have been regulatory changes to help with things like staff recruitment and we can always look for smart, pragmatic ways to go further, but basically, travel companies in the way you describe have to take responsibility for their recruitment.
"And yes, there may be things we need to help them and have helped them, but in fact Transport Secretary Grant Shapps has spoken to them about this and preparing for the resurgent demand during months.
"Amid some finger pointing, these are the facts."
It comes as thousands of holidaymakers have faced travel misery during their mid-term jaunts, with long queues winding their way through airports due to crippling staff shortages.
According to The Times, industry figures have said they want ministers to change employment rules so people can be validated for jobs using records held by HM Revenue and Customs (HMRC).
A source told the newspaper that the request was "attempting to respond to the fact that most people have had a number of small jobs with short-term contracts during the pandemic".
They added: 'We often need a five year employment history and if we have to check with 15 or 20 employers… always one or two don't come back to you.'
It comes as TUI announced it was canceling six daily flights throughout June, causing more holiday misery for around 34,000 Britons.
Other airlines are also continuing to cut flights and passengers are being forced to wait for hours at airports such as Manchester, Heathrow, Gatwick and Bristol.
The chaos reached a new level on Tuesday after police were mobilized to explain to customers that their flight had been cancelled.
Manchester Airport officials had to explain to disappointed holidaymakers that they would not be leaving again and that they would get a refund and compensation.
A cop was filmed telling travelers he would also be frustrated in their position and admitting he was unsure why their vacation plans had been ruined.
Transport Secretary Grant Shapps has revealed he will be meeting with industry leaders to find out 'what went wrong', after the government provided the aviation industry with £8billion in funding during the pandemic.
The Prospect union, which represents thousands of air traffic control, airport and aeronautical engineering workers, said things could get worse before they get better.
Garry Graham, its deputy general secretary, said: "Unions have repeatedly warned the government and aviation employers that downsizing during the crisis will lead to problems with post-pandemic ramp-up.
"The government highlights the furlough scheme but ignores that it ended long before the end of the majority of international travel restrictions.
"Now we are seeing staffing shortages across the industry, with a huge reliance on overtime to get by on a day-to-day basis.
"In many areas, like air traffic control, overtime is just a temporary band-aid. So things could get worse this summer before they get better."
Cornwall Newquay Airport manager Tim Jeans also told LBC's Tom Swarbrick on Monday he believed the disruption would continue through the summer.
"I can't pretend it's going to be a bed of roses this summer," he said.
"We're going to have to do our best to make sure the resources we have are used efficiently and appropriately to minimize delays for people – but I can't hide the fact that it's going to be a tough summer."