'Air Architecture' portable house tent inflates in minutes for easy camping
Inflatable tent for easy camping
Creative camping offers a new addition to its family with the inflatable from Air Architecture attempted. Designed by Liu Yibei, the inflatable takes the shape and form of a classic house to bring the essence of home outdoors anytime and anywhere. Its white color makes it easy to spot during the day and looks like it glows in the dark at night when a white lamp is on inside. The creator dubbed it as a piece of cloud that gently blends into any landscape it finds itself in. To set it up, campers need to take the tent out of its carry bag, expand it – which has a size of 2.4m x 2.2m – open its valve, insert the nozzle and pump air for about eight minutes. Campers can see it explode, immediately putting it on the list of inflatables.
images courtesy of Tsutaya Electrics
fire resistant and waterproof fabric
The structure is made up of columns and beams that follow the tracks of an actual house construction. Taken from its resemblance to a classic-looking house, the design gives the inflatable tent a unique look that stands out on the campsite. The cell that supports the Air Architecture is a 120mm diameter, 0.3mm thick TPU pipe, covered in thick polyester. It will be hard and robust once inflated as indicated by its designer. The tent fabric is 210D Oxford polyester, and its polyurethane coating on the fabric and seams makes it suitable for most rainy conditions. Its high-performance polyester fabric maintains the clean shape of Air Architecture's aesthetic and makes it flame-retardant and waterproof. An engineered Airtube structure forms its air columns and beams which feature 100% airtight characteristics and are also fire and water resistant.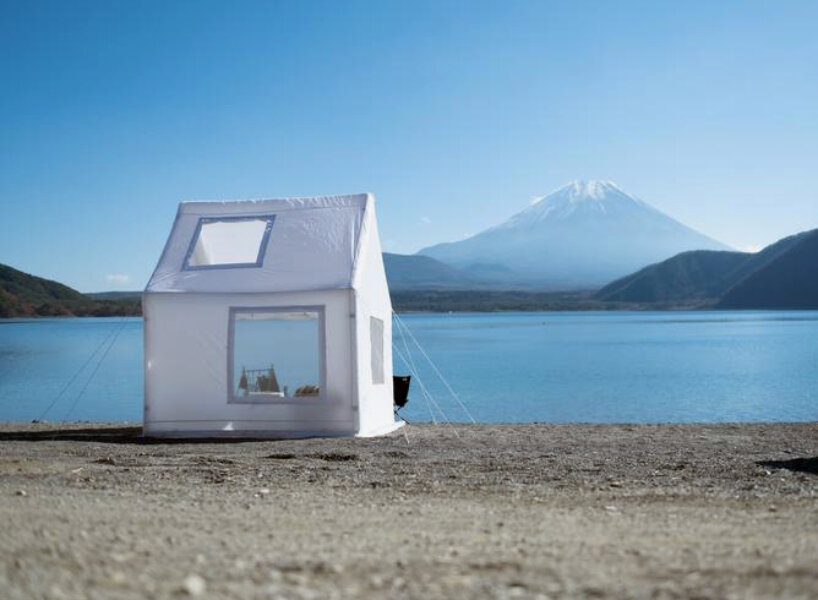 'Air Architecture' portable, house-shaped tent inflates in minutes for easy camping
Be with nature through an inflatable tent
The comfortable white tent has a high ceiling when campers enter to give them a spacious area, allowing them to move freely. The piece is wrapped in a shiny white fabric that appears to glow. The opening of the windows on all sides connects the interior and the exterior, sharing the private space with nature. When set up in a forest, campers can easily listen to the rustling of leaves and the chirping of birds and even smell the scent of trees and earth from the thin, strong fabric that separates them from their surroundings. The same goes for the beach where the gentle lapping of the waves and the smell of the tide drift in and linger in the modest, portable home. Night sets in and campers can close the windows of the aerial architecture and turn on their light to brighten up the space, or turn on a warm light to accompany their stargazing experience from the transparent windows.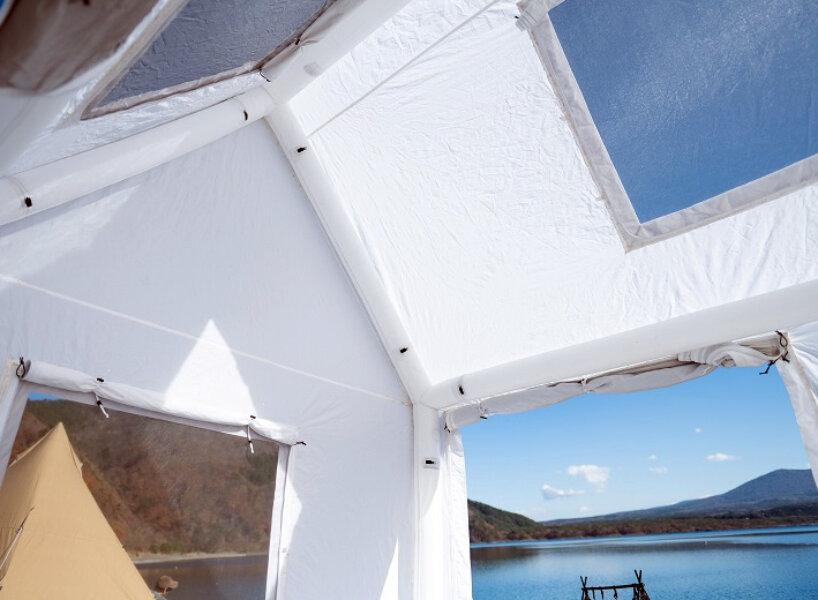 inflatable tent interior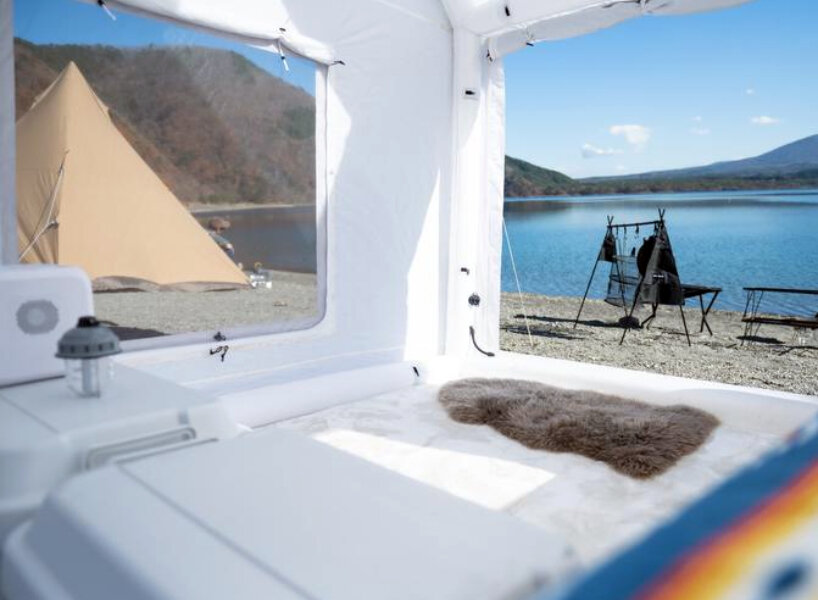 the inflatable tent has a polyurethane coating which makes it fire and water resistant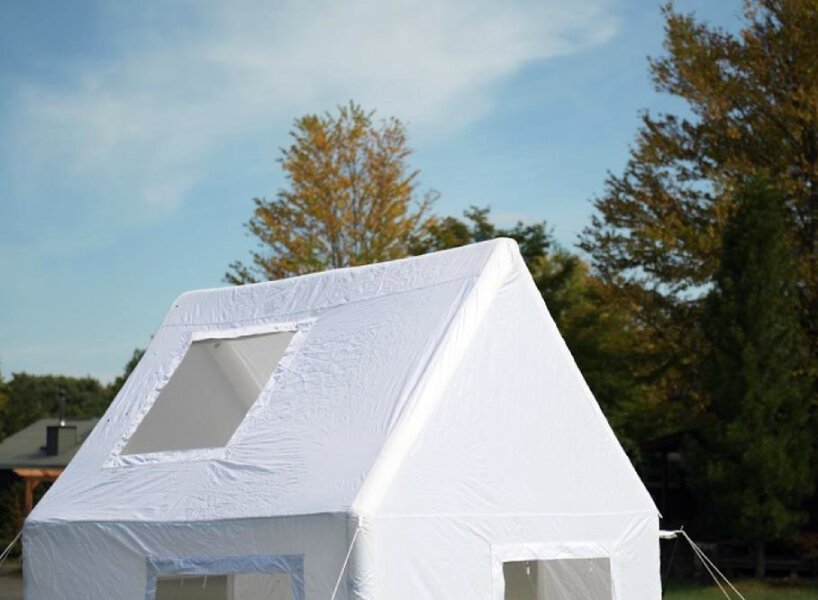 the top part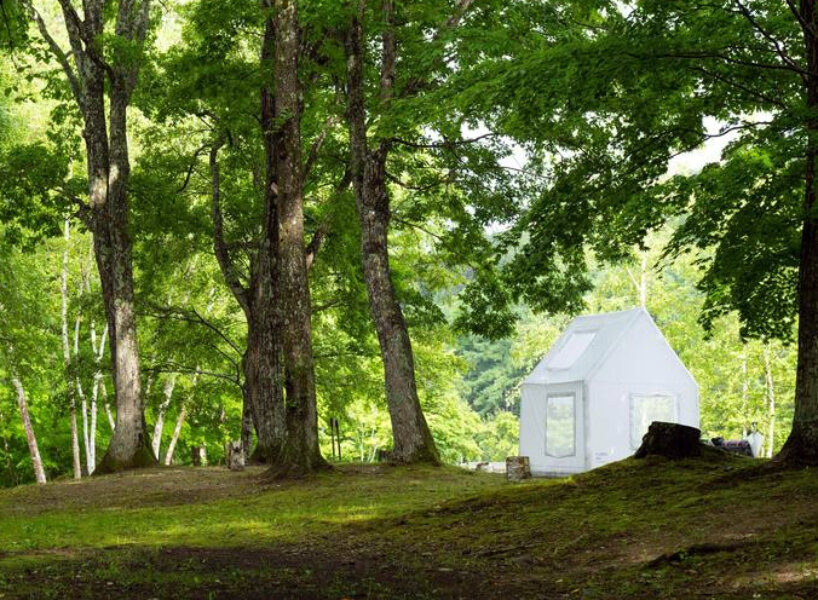 aerial architecture in nature
project info:
Last name: aerial architecture
designate: Liu Yibei
Matthew Burgos | design boom
Jul 15, 2022