A trip to Florence | Free from all ties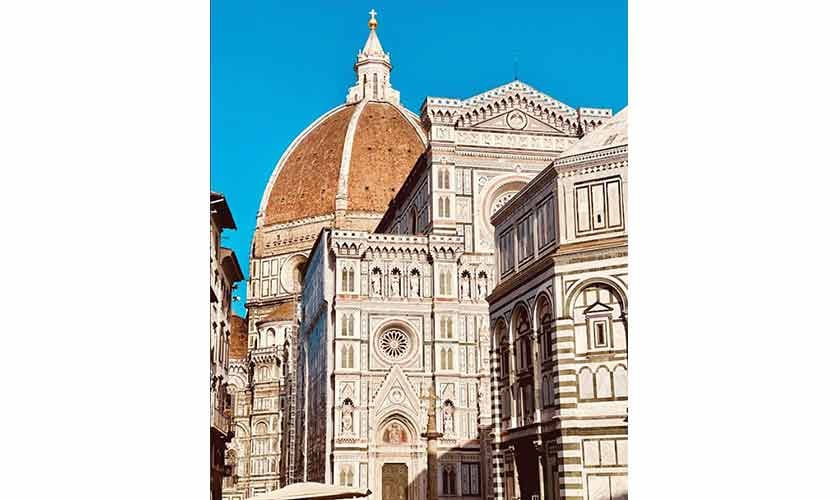 What sane person would return to a city they've been to before, at the first chance to get on a plane after two years of a pandemic? It's me. As soon as I had the opportunity to travel abroad for pleasure, I returned to Florence. And I have no regrets. If there is one city in Europe where I can go back for a few days every year, it is Florence.
Equal parts charismatic and magical, walking around Florence is like stepping back in time. As well as being home to brilliant art, culture and architecture, Florence is a living, breathing city with great music and fashion. Its slow and nomadic life adds to the charm that can be enjoyed while strolling through the city.
Choosing an element of the city that makes it special is a daunting task. For starters, its streets are absolutely stunning. These are narrow cobbled streets that open into piazzas (public squares) where the best street musicians play delicious music, one can just wander aimlessly through Florence and have a good time. Most streets and squares have outdoor restaurants, serving the best pizzas, pastas and local specialties.
The town is easy to explore on foot. One can navigate through Florence without Google maps as all streets are marked and have signs for major tourist attractions like Piazza del Duomo, Uffizi Gallery, Accademia Gallery, Santa Maria Novella, Piazza Della Signoria, the Ponte Vecchio and others. You don't really need to take a taxi or even a bus to explore Florence as you can walk from one end to the other in an hour with most attractions within five to 10 minutes of each other.
You don't really need to take a taxi or even a bus to explore Florence as you can walk from one end to the other in an hour with most attractions within five to 10 minutes of each other.
The works of art one encounters in Florence are exquisite – be it Michelangelo's Doni Tondo, Sandri Botticelli's The Birth of Venus, Leonardo da Vinci's Annunciation and Andrea del Verrocchio or Raphael's famous Portrait of Pope Leo X with Two Cardinals, the works of art in Florence at the Uffizi Gallery and others at the Accademia Gallery are not only of historical significance but also a spectacle for sore eyes.
One can find some of the most important statues in the world in this city too. David is one of them. It is a masterpiece of Renaissance sculpture, the famous Italian artist Michelangelo created David in marble between 1501 and 1504. It now stands at the opening of the Accademia gallery, which houses paintings luminaries such as Veronese, Titian, Tintoretto, Tiepolo, Bellini, Canaletto and Giorgione.
Santa Maria del Fiore, Florence's Duomo in the old city center is just a marvel. Although the construction was almost finished in 1436, the front facade was not completed until the 19th century. The outer and front façade of the cathedral is covered in white marble and red, pink and green polychrome patterns and carvings.
Next to the Duomo is Giotto's Campanile, which many believe is connected to the Duomo, but it is a separate building. Inspired by Gothic architecture and divided into five distinct levels, the exterior of the tower features polychrome marble decoration which is also present on the Duomo in brilliant green and pink colors.
Piazza Della Signoria is another popular square, home to restaurants, statues, fountains and the famous Palazzo Vecchio, Florence's most important administrative building. It's quite mind-boggling to think that this building dates back to 1299. Its front facade features a series of coats of arms that represent various families and important figures connected to the city's history.
A few steps from the Palazzo Vecchio is the Ponte Vecchio, one of the most famous bridges in the city. Spanning the Arno River, the Vecchio Bridge is known for its history and the plethora of shops that line the main walkway. Strolling the Ponte Vecchio is an experience at any time of the day, but especially in the evening when the sun goes down. Tourists often gather here with street musicians playing in the background as the sun sets and the sky turns pink, making Florence even more magical.
What I find most charming about Florence is that every street and every corner has a brilliant street musician, lost in the art of playing his instrument, oblivious to the world around him. Europe is known for its musicians and street performers, but the quality of street performers in Florence is unparalleled. You don't have to attend a concert, just walk into any square at any time of the day and enjoy a remarkable music performance and people will enjoy it at their way.
If you are looking for the best views of Florence; I hesitate between those of Piazza Michelangelo and the gardens of Baboli. Piazza Michelangelo, most famous for its views over Florence, is located on the south bank of the Arno River and is a popular tourist spot in the city. The center of the square houses a statue of David, and at the edge of the square there are a series of vendors and artists selling their wares, with street performers performing in the background.
The Boboli Gardens also claim to have the best view of Florence, but the gardens themselves are huge and beautiful. Created in the 16th century and covering an area of ​​45,000 square meters, they feature the main lawn with a fountain and obelisk, a selection of trees, plants and flowers, and several large ponds with water features. The gardens are among the largest in Florence and are truly a pleasure to walk through.
These are perhaps just some of the highlights the city has to offer. Even if a tourist does not follow any guide or map, he is bound to have a great experience because every street and every corner has something unique to offer.
Choosing my favorite part of Florence would be a daunting task. There is another kind of joy and calm that I appreciate there and that I definitely want to experience again and again and therefore I hope to find myself in Florence often.
---
The writer is a communication professional, journalist and photographer